ANTIPHELLOS / ORTASI KAS
ANTIPHELLOS as it is called in Ancien...

03.04.2018
EDN - European Documentary Network is a global network for professionals working with documentary film & TV. Around 1000 members from more than 60 countries have joined EDN. Our organisation is open...


13.12.2018
The European Audiovisual Observatory recently organized a conference entitled "Brexit: Impact, Challenges and Chances for the European Audio-Visual Sector" in order to provide insights on the UK's...


07.12.2018
Are you looking for the right documentary slot on German TV? Or the email addresses of commissioners who could help finance your documentary project? With the EDN Financing Guide, you will quickly...


21.12.2018
EDN On Demand is a video consultation service for documentary professionals. This service makes it possible for you to get direct feedback from EDN staff members in an easy accessible way regardless...


14.12.2018
EDN WEEKLY: Projects Pitched @ EDN, 900+ commissioning editors & buyers in the EDN Financing Guide, EDN Member Benefits, DOCalendar & Festival deadlines and more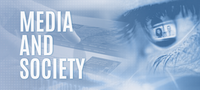 03.01.2018
The project, entitled Media and Society: European Documentary in a Changing Media Landscape, aims to set out a blueprint to secure a sustainable future for the industry. It brings together academics,...